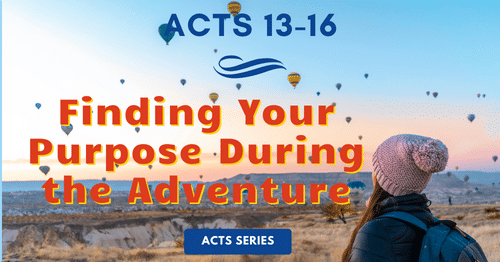 What is it like for you as an individual to be on adventure with God? How do you find what is His purpose in the adventure for you? Adventure is present in every chapter of the book of Acts! Adventure for groups of people such as the Jews, the Samaritans, and the Gentiles. Adventure for the messengers who brought the gospel to all those people groups. And adventure for the individuals who joined the mission teams to travel to foreign territory and watch God at work in each place. This is post #8 in our Radical Acts blog series. In the last article, we looked at how to choose the right causes to support—the ones that align with God's purpose. In this post, we will look at how following Christ on adventure will help you to find and fulfill God's purpose for you.
Listen to this post as a similar podcast from our Radical Acts Bible Study covering the book of Acts in the New Testament. (11 lessons)
Change Is Hard—But Can Be So Much Better!
Change is hard. Traditions bring security, comfort, and resistance to anything that might threaten "the way things have always been." And so it was for some Jewish believers who became followers of Christ. They were struggling. What constitutes salvation and, therefore, righteousness before God? Is it faith in Jesus Christ alone, or faith in Jesus Christ plus submission to Jewish laws and traditions?
This raging debate threatened to tear the fledgling Christian church apart as Jewish believers sharply disagreed with each other about the Gentiles. And so the church in Antioch acted, sending Paul and Barnabas to testify to the elders in Jerusalem and asking them to settle this foundational issue.
After much discussion, Peter got up and addressed them: "Brothers, you know that some time ago God made a choice among you that the Gentiles might hear from my lips the message of the gospel and believe. God, who knows the heart, showed that he accepted them by giving the Holy Spirit to them, just as he did to us. He made no distinction between us and them, for he purified their hearts by faith. Now then, why do you try to test God by putting on the necks of the disciples a yoke that neither we nor our fathers have been able to bear? No! We believe it is through the grace of our Lord Jesus that we are saved, just as they are." (Acts 15:7-11)
The Jerusalem Council aligned themselves with the purposes of God, made choices that aligned with the purposes of God, submitted to the Holy Spirit's leading, and acted on that decision. The Gentiles as well as the Jews are all saved by faith alone through Christ alone. God's plan was to bring both groups together into one new organism called the Church. And He did it!
The modern-day church still struggles with doctrinal differences and disagreements. Are there additions to the gospel that a new believer might encounter in your church? Consider the simple, wonderful, declaration of Scripture—that salvation is by faith alone in Jesus Christ, a free gift of His marvelous grace.
Jesus Christ fulfilled the Mosaic Law. It was no longer needed. His death on the cross finished whatever was needed to provide complete salvation to everyone who trusts in Him. It is by grace we are saved through faith not by works. Every Gentile Christian since that day has rejoiced! Amen?
In the scriptures that follow the Council's decision, we read that Paul and Barnabas disagreed over taking Mark with them on their next missionary journey (Acts 15:36-41). We are introduced to Timothy and his family (Acts 16:1-3). We meet Lydia and her household plus the jailer and his household. And we see how singing causes earthquakes. Just kidding! All of those real people experienced adventure with the Spirit of God in different ways.
Two Who Began Their Adventure as Teens
In this article, I want to focus on two young men who began their adventure with Christ as teens.
Do you have any teenagers in your household? What about in a year or two? Some people are afraid of their children becoming teenagers. The expectation is that life will be bad at that time. But it does not have to be that way. What I have learned along the way is that God can certainly grab hold of the heart of a teen boy or girl so that they become totally sold out to Jesus Christ but live it out in different ways. I have seen that happen in my own children.
Both Mark and Timothy began their adventure with Christ as teens.
John Mark
Up front, I will tell you that Mark wrote the gospel of Mark many years after what happened in Acts chapter 15. He had quite an adventure with God.
As a teen
When Mark was a teenager in Jerusalem, he knew Jesus. In fact, it is thought that the Last Supper was held at his mother's house. In Mark chapter 14, Mark may have written a veiled reference to himself since no other gospel writer mentions this incident.
A young man, wearing nothing but a linen garment, was following Jesus. When they seized him, he fled naked, leaving his garment behind. (Mark 14:51-52)
He describes a young man, likely a teenager, who followed Jesus out to the Garden of Gethsemane wearing only a linen garment. That indicates he came from a wealthy family. Without any other clothing tells us he dressed hastily in the middle of the night. That sounds like a teen boy.
As a young man
For the next 14 years, Mark was part of the Jerusalem church community, where he listened to the apostles' teaching. At times, the church would gather at his mother's house to pray. About 11 years after the resurrection, Mark left Jerusalem with his cousin Barnabas to go to Antioch in Syria. There, Barnabas and Paul headed up a growing church filled with Gentiles. Mark helped.
Around the age of 30, Mark traveled with Barnabas and Paul on their first missionary journey to Cyprus. A year later, when they got to what we know as southern Turkey, Mark left them and headed back to Jerusalem.
From Paphos, Paul and his companions sailed to Perga in Pamphylia, where John left them to return to Jerusalem. (Acts 13:13)
We do not know the reasons behind his departure. It is wrong to speculate apart from what the Scriptures say.
Three years later, when Mark was a man of around 30 or so…
Some time later Paul said to Barnabas, "Let us go back and visit the brothers in all the towns where we preached the word of the Lord and see how they are doing." Barnabas wanted to take John, also called Mark, with them, but Paul did not think it wise to take him, because he had deserted them in Pamphylia and had not continued with them in the work. They had such a sharp disagreement that they parted company. Barnabas took Mark and sailed for Cyprus, but Paul chose Silas and left, commended by the brothers to the grace of the Lord. He went through Syria and Cilicia, strengthening the churches. (Acts 15:36-41)
Paul did not want Mark on their second missionary journey. Paul used the word "deserted" so That is how Paul felt about Mark's decision to leave. Barnabas wanted to continue mentoring his cousin so he took Mark with him to Cyprus again. Paul took Silas and headed north to Turkey. God had two mission teams.
As an older man
Then Mark went back to Jerusalem where he connected with Peter. For the next 15-20 years, Mark traveled with Peter, listening to Peter's sermons and recording them. Peter probably had the greatest influence on Mark. When Mark was around 50, an aging Peter called him "my son" in the letter we know as 1 Peter, written from Rome.
She who is in Babylon, chosen together with you, sends you her greetings, and so does my son Mark. (1 Peter 5:13)
By this time, Mark's relationship with Paul was restored. Both times when Paul is in prison in Rome, Mark is there with him.
My fellow prisoner Aristarchus sends you his greetings, as does Mark, the cousin of Barnabas. (You have received instructions about him; if he comes to you, welcome him.) (Colossians 4:10)
Epaphras, my fellow prisoner in Christ Jesus, sends you greetings. And so do Mark, Aristarchus, Demas and Luke, my fellow workers. (Philemon 23-24)
Only Luke is with me. Get Mark and bring him with you, because he is helpful to me in my ministry. (2 Timothy 4:11)
Paul calls Mark his fellow worker and very useful to him.
It is generally believed that Mark adapted Peter's preaching and teachings about Jesus into the book we now call "Mark," arranged and shaped as he was guided by the Holy Spirit. So, the young teen who knew Jesus as a youth had many experiences that shaped his life and led him to the work that God had in mind for him.
God was patient with Mark and was able to use Mark in a ministry totally different from Paul's work but equally important. Sometimes maturity takes longer. Never give up on a young person who belongs to the Lord. Do not try to force them into serving God your way. You should always want them to pursue God's purpose for them.
Timothy
Timothy was also a teen when he began his spiritual adventure with Jesus.
As a teen and young man
[Paul] came to Derbe and then to Lystra, where a disciple named Timothy lived, whose mother was a Jewess and a believer, but whose father was a Greek. The brothers at Lystra and Iconium spoke well of him. Paul wanted to take him along on the journey, so he circumcised him because of the Jews who lived in that area, for they all knew that his father was a Greek. (Acts 16:1-3)
Timothy was born and reared in Lystra (central Turkey). His mother Eunice and grandmother Lois were devout Jews who became believers in Christ through Paul's preaching (2 Timothy 1:5). Timothy's father was a Greek. There is no mention of him beyond that. Timothy first heard Paul preach the gospel on Paul's first visit to Lystra and trusted in Christ. In essence, Paul was Timothy's spiritual father.
Timothy was not wealthy, but he was rich in reputation and gifts God could use for ministry. The local church recognized this about him and told Paul when he came back to Lystra. So, Paul invited Timothy to participate on the rest of his second missionary journey.
For 3 years, Timothy traveled with Paul on this missionary journey, facing incredible odds. But he did not quit. During that time, Timothy helped to establish churches at Philippi, Thessalonica, and Berea. When Paul left Berea to go to Athens (Acts 17:), Timothy and Silas stayed behind before later joining Paul in Corinth.
When the Jews in Thessalonica learned that Paul was preaching the word of God at Berea, they went there too, agitating the crowds and stirring them up. The brothers immediately sent Paul to the coast, but Silas and Timothy stayed at Berea. The men who escorted Paul brought him to Athens and then left with instructions for Silas and Timothy to join him as soon as possible. (Acts 17:13-15)
Timothy was sent to Thessalonica to strengthen the faith of believers there.
So when we could stand it no longer, we thought it best to be left by ourselves in Athens. We sent Timothy, who is our brother and God's fellow worker in spreading the gospel of Christ, to strengthen and encourage you in your faith, so that no one would be unsettled by these trials. You know quite well that we were destined for them. (1 Thessalonians 3:1-3)
He also traveled with Paul to minister to churches in both Greece and western Turkey.
Six of Paul's epistles to churches include Timothy in the salutations meaning Timothy was with him when Paul wrote the letters.
As an older man
Acts does not tell us whether Timothy was with Paul during the two-year imprisonment at Caesarea. But he was with Paul during his house arrest in Rome. After Paul's release (around 62 A.D.), Timothy and Paul traveled to Ephesus where Timothy was left as an "apostolic representative" with the authority to order worship, appoint elders and deacons as well as maintain the teaching of truth and sound Christian doctrine within all the churches located in that region.
To Timothy my true son in the faith: Grace, mercy and peace from God the Father and Christ Jesus our Lord. As I urged you when I went into Macedonia, stay there in Ephesus so that you may command certain men not to teach false doctrines any longer (1 Timothy 1:2-3)
Mark and Timothy found their place
We can look at the lives of these young men and see that both had been trained in the Scriptures since childhood. Both met Jesus as teenagers—one physically, the other spiritually. Both were discipled by apostles and other godly men. Both had great potential for serving Christ
Timothy found his niche for serving Christ right away. He jumped in with both feet and never turned back. He became a lifelong missionary and pastor.
Mark tasted missionary life then backed off from that. Then, he came back strong in a different way as Peter's valued interpreter and writing assistant.
Two books of the Bible bear Timothy's name as the recipient. One bears Mark's name as the author and is the first one translated by Wycliffe missionaries as they go into a new language group.
Yet, neither Timothy nor Mark were listed by name in the gospels.
Characteristics of Teens That Are Useful to God
Years ago, I heard Bible teacher Chuck Swindoll say that teens have special characteristics that are especially useful to God. Teens:
Are available. They are usually not tied down by heavy family responsibilities. Not restricted by mortgages and other expenses that accompany caring for a family.
Are risk-takers. That same desire to try bungee jumping, roller coasters, and other daredevil stunts can be channeled to serving God. They love going to difficult places on mission trips. Not worried about all the things that can go wrong. They think they are invincible anyway, right?
Desire to make a difference. You know how kids coming out of high school and college want to change the world. Encourage them to do that with the gospel. Eighty percent of missionaries on the field either accepted Christ or received their call to missions while attending a youth camp.
Have abundant energy. All that activity needs to be funneled somewhere. Why not in the direction of serving Christ?
In many ways, teens can be two-year-olds in big bodies. They do go through self-centered times as they establish identity apart from their parents. That is natural and normal. When you input correctly during the first twelve years, teaching them to serve; to be flexible, practical, and able to wait; to be givers; and to trust God for all their needs, then they will be prepared for becoming ministers of the gospel in any way, in any place, and at any time God chooses for them. And they can find God's purpose for them as they follow Him on the adventure.
But so can every person who is reading this article today.
Finding Your Purpose During the Adventure
The lives of Mark and Timothy illustrate for us how God's Holy Spirit transforms the lives of ordinary people like you and I are and how He leads us in different ways to accomplish the purposes for which He created us.
Dear believer, if you are looking at yourself and thinking that God does not have much purpose for you because you are ordinary, stop it! You do not need to do something extraordinary to validate your life. Women who are faithfully serving God in their own ordinary spheres of influence are living lives of purpose even if not making a splash across the social media pages.
It is okay to focus on serving your family well and not feel like you need to take care of the whole community, too. That is fulfilling your purpose. It is okay to work hard at your job without aiming to be the CEO of the company. Doing your work as though serving Christ well will be noticed by others and bring Him glory. That is fulfilling your purpose. It is okay to faithfully teach the Bible to a group of neighbors and friends without being a published author. It is okay to not have a career outside of home and family right now if that is where God is placing you. You are fulfilling your purpose.
Remember the process for decision-making? Those apply to finding your purpose during the adventure of following Christ.
Align yourself with the purposes of God as described in His Word.
Consider options that also align with the purposes of God. Give Him your training, gifts, opportunities, and say to the Lord, "Use these for your glory, not mine."
Ask God for direction and for Him to show you the best choice of what you should be doing.
Submit to God's direction.
As you say yes to serving Jesus with your life, you will find your purpose in the adventure. I have seen that happen in my life. These blogs are the result of my following those four directives.
In the next post, we will look at how following Christ on adventure means we can live life in the extremes and still have joy.
Let Jesus satisfy your heart with His Spirit's transforming power. And say yes to a life of adventure with Him!
All of the above information is covered in the Radical Acts Bible Study of the book of Acts.
Related Resources: