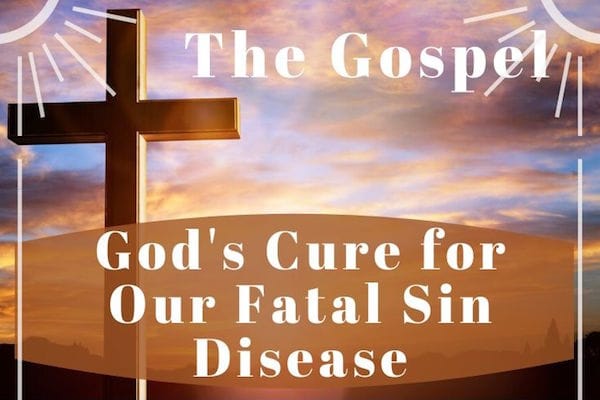 This is blog #1 in "The Gospel" series that covers what Jesus Christ accomplished completely for us through His death and resurrection. We are looking at specific words describing what God did to cure our fatal sin disease. In this blog, we'll cover how the gospel message cures our fatal sin disease.
Listen to this blog as a podcast below.
Christianity is Christ.
Christianity is Christ. It is not a lifestyle. It's not rules of conduct. It's not a society of people who have joined together by the sprinkling or covering of water. Christianity is a relationship with the Lord Jesus Christ. So, before we get to us and our need, let's back up a bit and talk about Jesus.
The New Testament opens with the births of John the Baptist and Jesus. About 30 years later, John challenged the Jews to indicate their repentance by submitting to water baptism. Repentance means turning from sin and toward God. Water baptism was a familiar Old Testament practice used for repentance. It was also used when a non-Jew converted to Judaism. In the Bible, anyone who was not a Jew was called a Gentile. Water baptism for the new convert represented being washed clean of their former idolatry.
Shortly after John started baptizing people, Jesus presented Himself to the public. The account of His earthly life is recorded in the first 4 books of the New Testament known as the Gospels. Those biblical books called Matthew, Mark, Luke and John are named after the writer of each account. Each Gospel presents different aspects of Jesus' earthly life and ministry. All present Jesus as "the Christ."
This title "the Christ" is from the Greek word christos, a translation of the Hebrew term "Messiah" meaning "anointed one." The Old Testament prophets promised that the Messiah, as the anointed one of God, would come and do many wonderful things for God's people, including to restore God's Kingdom on earth. Christians are followers of Jesus, who is the Christ.
If you have heard the good news of the gospel and believed that Jesus is the Christ, the Son of God who gave Himself for your sins, you have eternal life just by believing in Him as your Savior. But more than salvation, Jesus Christ calls all humans into a close relationship with Himself as brothers, sisters, and friends.
Yet, He is also our Lord, the one who sits at the right hand of His Father God as head over everything else in heaven and on earth. As Lord, Jesus Christ is our master—the one to whom we should willingly give our obedience. He is our model of how to live as humans in a dependent relationship with God, and He is our mentor in walking with us in that dependent relationship.
Jesus' disciples 2000 years ago were no different than we are except they physically beheld the risen Christ. We must see Him through eyes of faith and allow the Gospels to leap off the page revealing our Lord. This is so that we may know this God-man who changed our lives as we received the Good News. We need to frequently read the Gospels, watch movies based on them, and tell the stories about Jesus as often as needed to know His life well because Christianity is Christ!
Besides knowing Christ, we need a good understanding of the Gospel message.
Understanding the Gospel message
The ultimate grace gift came—Jesus Christ. But, why did He come? What was His purpose?
From the time sin entered into the relationship of us humans with our Creator God, there is one question that continually demands an answer. "How can any guilty, sinful human be made right in the eyes of a holy God?" Or, in other words, how can God have any kind of a relationship with a sinful human?
We humans have a spiritual problem that can be compared to death caused by a fatal disease. It's a two-fold problem. Sin is the disease. Romans 3:23 says that all have sinned and fallen short of the glory of God. Everyone has the sin disease. And, death is the result of the disease. We are born spiritually dead sinners. Our double whammy problem demanded a two-fold solution. The great news is that God acted on our behalf! The gospel is God's cure to our fatal sin disease.
For the problem of sin, people need sin to be removed and replaced with righteousness. God's answer is Christ's death on the cross. Because of His finished work on the cross, we can now be cured of the sin disease. We will look at how we are cured in blogs 2-7 of this series.
For the problem of death, people need the restoration of life. God's answer is Christ's resurrection. We can now be given life that is forever. We will look at what that means for us in blog 8.
The Gospel message included the answer to both spiritual problems. A 20th century Bible teacher named Ian Thomas captured the gospel message in a nutshell with these words.
"Jesus Christ laid down his life for you…so that he could give his life to you…so that he could live his life through you." (Ian Thomas, The Saving Life of Christ)
The gospel is an announcement to the world of an accomplished fact. What God set out to do for humans, He accomplished. The apostles declared from the time of Pentecost (Acts 2) and beyond that salvation is available on the basis of a single condition. That one condition is faith in Jesus Christ. So, it's important to know what faith is and what it is not.
What faith is and is not
First, let's cover what faith is not. Faith is not a blind belief or mindless gullibility. It is not a life of passivity and doing nothing. Faith is also not a religious feeling like a tingle or good feeling from performing some ritual.
So, if faith is not that, what is it? The word "faith" means a "belief, trust, and commitment of mind and heart to something or someone."
Faith is intelligent. That means first you need to know about the something or someone. It is based on information about the object of your faith.
Faith is also decisive. It involves the element of assent or agreement that the information about that someone or something is true.
Faith requires an act of the will. Any conscious choice that involves trust or dependence on someone or something requires a deliberate action to both trust the information and act on it. It is the difference between walking alongside a pool of water (seeing it is there) and jumping into the water (experiencing the water personally).
Christians of the first century AD recognized that the whole content of the gospel message is Jesus. They agreed that the information about Jesus was definitely true. They decided to trust God completely and believe in His Son Jesus Christ.
Simply put, faith is a full commitment to Christ. God acted. We are to respond to His action by saying yes to faith in Jesus Christ and jumping into the new life God has for us. Instead of believing in your own ability to earn God's favor, you now trust in what Christ has done for you. That's biblical faith.
In Ephesians, Paul wrote this.
"For it is by grace you have been saved, through faith—and this not from yourselves, it is the gift of God—not by works, so that no one can boast." (Ephesians 2:8-9)
By God's grace, you are saved through your faith. It is by your faith alone that you are saved. God offers you salvation from the destruction caused by sin. He offers you this salvation by His grace that is given to you. Grace is an undeserved gift. It is the gift of God—not by works, so that no one can boast of their efforts. Your response is to be one of faith. Let's say you were standing before God, and He asked you, "Why should I let you into my heaven?" You can answer with confidence, "I know I am saved by your grace through my faith in your Son Jesus Christ." You are in!
Christ's finished work on the cross
On the cross, just before he died, Jesus declared, "It is finished" (John 19:30). He meant just that. Finished. Complete. Done once for all. God took the ugliness of the cross and made it beautiful for us.
Because of Christ's finished work on the cross, our relationship with God is changed forever when we put our faith in Jesus Christ. It is much more than having our sins forgiven and going to heaven when we die. So, it takes more than one word to describe what Jesus's death on the cross accomplished for us. In fact, it takes 6 terms, and these 6 terms are sometimes called the "words of the cross." Not the words that Jesus spoke from the cross, but these are what Jesus Christ accomplished completely for us through His death on the cross. Once and for all. A done deal in God's eyes.
In a way, each one of these 6 words answers a different question about our relationship with God. When you put them all together, you will never be the same once you see all that Jesus Christ has done for you. You need to know these 6 words because they are in your Bible, especially in the New Testament letters of Paul, Peter, and John. If you stumble over them, you are going to miss the riches of understanding your Bible. When you read them, you need to know what they mean because they are so important to your experiencing a life of freedom and joy in Christ. They are gifts of the cross for us. They are God's cure for our fatal sin disease.
This is blog #1 in "The Gospel" series that covers God's cure for our fatal sin disease. In the next blog, we'll cover the first word of the cross—propitiation. You will want to know what this means. It will change your life!
As Paul wrote in Colossians 3:12, you are dearly loved!
Let Jesus satisfy your heart with His finished work on the cross. Then, live in the freedom of your new life in Him.
Image credit: sourced from depositphotos.com (Depositphotos_225669932_s-2019.jpg)