Launch: Train and Release More Disciplemakers
Jesus followers become disciplemakers
This is the LAUNCH phase of lifestyle disciplemaking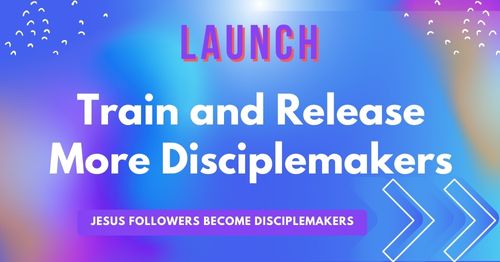 Get our new book on disciplemaking from Amazon and most online bookstores.
Multiply impact beyond yourself
A disciplemaker is one who makes disciples that make disciples. It goes beyond just growing in your own faith. The goal is not just to teach but also to train others to continue the process of connecting with nonbelievers, sharing your faith story and the gospel with them, and establishing new and young Christians in the truths of Christianity. That includes yourself and everyone in your women's ministry. Encourage lifestyle disciplemaking as you train and release more disciplemakers to go into their families, neighborhoods, schools, and workplaces.
Resources to help you train and release more lifestyle disciplemakers
Start and Lead a Bible Study Group
Starting and leading a Bible study group apart from your church is a great way to launch into lifestyle disciplemaking.
Transition Your Ministry to Be Disciplemaking-Focused
Has your ministry team been event-driven more than purpose-driven? Help every woman fulfill her purpose as a disciplemaker by making your ministry more disciplemaking-focused.
Get Trained as a Christ-Focused Small Group Leader
Being a small group leader is part of the launch phase of lifestyle disciplemaking. Our leadership handbook, "Be a Christ-Focused Small Group Leader," helps you to move beyond your own spiritual growth to disciple others.
---
Image credit: Sourced from a template at canva.com.