Perspective: Insights from 1 & 2 Thessalonians
A study of both letters to the Thessalonians
Book #3 in the "Fear to Faith" series.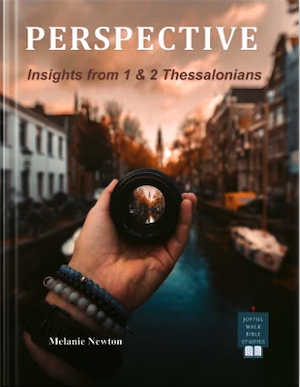 11 Lessons with Podcasts and Discussion Guide
Are you longing to know God's perspective on what's affecting your life? Are you unsure about your future beyond this life?
Get answers to these questions and more from this Perspective Bible Study of 1 and 2 Thessalonians. You'll gain the biblical perspective on suffering so you can stand firm and press onward regardless of obstacles in your life. Understand leadership so you can be a servant-leader to those who look to you. Gain perspective on death and your life beyond the grave. Learn about the Rapture, Great Tribulation, Antichrist, and Second Coming of Christ.
When you gain the biblical perspective on who God is, what it means to live your life to please Him, and what He has planned for your future, you can get the security your heart longs to have today!
What women are saying about this study:
Such a great study!!! Journey Girls Study group.
We're excited about using this study in our Ladies' Bible Study group this fall. Your studies do an excellent job of guiding the participant through an inductive study of the Word. (Bonnie)
---
Who wrote 1 and 2 Thessalonians?
The apostle Paul identifies himself as the author of the 2 letters written to the church at Thessalonica. His co-worker Timothy reported on conditions in the church. Paul wrote the first letter shortly after he arrived in Corinth about A.D. 51. Then, he wrote the second letter within a few months after the first letter. In the letters, Paul addressed issues in the church and questions people asked. Over a quarter of 1 Thessalonians and nearly half of 2 Thessalonians deal with problems and issues regarding the end times and the coming of Christ from heaven.
Why do you need a proper perspective about God and the world?
Perspective is an objective assessment of any situation, giving all aspects their comparative importance. This action must be taken whenever you need to make a decision. With the biblical perspective about God:
• You grow in confidence because you will learn that your self-worth is not derived from any human being but from God.
•You will be able to stand firm and press onward regardless of obstacles in your life.
•You will have assurance of your future with Christ in eternity.
•You will not fear death as those who have no hope.
When we gain a proper perspective of God, ourselves, and the world in which we live, we begin to serve our God with greater enthusiasm and growing freedom. There is then no limit to what can happen as God works in us and through us to impact our world.
What does 1 Thessalonians teach about a Christian's death and the Rapture?
The Bible reassures us that when a believer dies, you simply go to sleep on earth and wake up in heaven. Believers should not be afraid of death. And, Jesus declared that He was definitely, positively, you-can-count-on-it-with-certainty coming back to earth to gather all of His followers across the planet. He will gather them to Himself in the clouds. There's no mistake about it. If Jesus said that was going to happen, it will! Paul described in 1 Thessalonians what that will look like if we are still alive when He comes for His own.
Image credit: photo by Red Charlie, sourced at unsplash.com (0*Z77kUVK04u5cuv0o.jpg)