Support Joyful Walk Ministries
A ministry partner with Integrity at Work-iWORK (a 501(c)3 organization.
Joyful Walk Ministries depends upon donations for its operating expenses. Donations to Joyful Walk Ministries through Integrity at Work qualify as tax-exempt gifts. Integrity at Work is a ministry that builds business-ministry partnerships that connect faith to the frontline of work. My husband, Ron Newton, is the director of this ministry.
#1. Donate through PayPal.
Follow this link or click on the picture below to donate with your credit card through PayPal.

#2. Donate by check.
Make checks payable to "Joyful Walk Ministries."
Mail to: Joyful Walk Ministries P.O. Box 270253 Flower Mound TX 75027
#3. Donate through your Amazon shopping
Go to smile.amazon.com and choose "Integrity at Work" (our parent organization) as your charitable organization. When you order through Amazon Smile, Amazon donates 0.5% of your purchase to us at no additional cost to you. Click on the picture below to get you there. Choose "Integrity at Work" to support. Amazon will prompt you to go to AmazonSmile whenever you start shopping.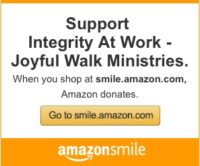 On your tablet or phone:
Download and open the Amazon Shopping app.
Sign into your account.
Select the main menu (=) & tap on "Amazon Smile"within Programs & Features
Select "Integrity at Work-iWork" as your charity.
Follow the on-screen instructions to activate AmazonSmile in the mobile app.
When you shop through the app, you will see "amazonsmile" in the heading.