A Fresh Start: Enter Your Life in Christ with Confidence and Joy
New Christian Bible Study
Book #1 in the "New to the Bible" series.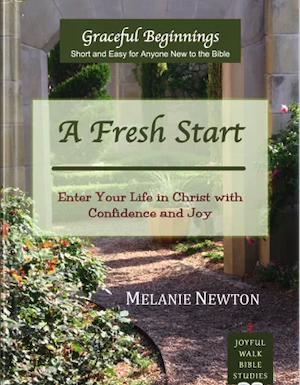 8 Lessons—Short and easy for anyone new to the Bible
Are you a new Christian wondering where to start learning about God?
Begin with A Fresh Start. This book is the ideal place for you to begin learning about the spiritual riches and abundant life that God has prepared for you. Maybe you have been a Christian for some time but need to make sense of a patchwork of past teachings you have heard. A Fresh Start will help you discover exactly what it means to have a relationship with Jesus Christ and to live out your life "in Christ" daily.
This study provides basic, easily understood Bible lessons that introduce the new or inexperienced Christian to God and His way of approaching life. The lessons are short and easy, designed for anyone regardless of your experience with the Bible. A Fresh Start gives you a fresh start with God!
What others are saying about this study:
"I love your ministry! I did your Fresh Start study with a group of ladies and all were so encouraged in their faith. (Janet)
Through this study, I met Jesus in a whole new way and understand my new identity in Christ. My sins have all been forgiven, and I am called to be a disciple for Him. (Katia)
Just a short note to tell you how much I appreciate the A Fresh Start lessons. As a brand-new Christian, I am often bewildered, but your lessons are most helpful. I am listening to podcasts, going to Bible study and services: I can't get enough. I will be baptized in September and I am amply blessed with a wonderful small and intimate church family. Thank you for putting together this simple but inviting and warm starter-pack. (Oliver)
---
Where should new Christians start studying the Bible?
New Christians should start with something written especially for anyone who is new to the Bible and new to the Christian life. Start with the book, "A Fresh Start," the ideal place for new Christians to begin learning about the spiritual riches and abundant life that God has prepared for you. Get to know Jesus as you work through this book. Ask Him to fill your heart with His love as you learn about Him.
What will "A Fresh Start" teach you?
"A Fresh Start" will introduce any new Christian to God and His way of approaching life. The study emphasizes the love-relationship with God you were designed to enjoy and explains basic concepts about how to live by faith in God every day. This study will help you find a local church community to join. This is the first book in the Graceful Beginning Series of short and easy Bible Study books for anyone new to the Bible. If you are discipling a new Christian, this book will help her to get a solid foundation of truth about Christ.
Where should a beginner start reading the Bible?
If you are new to reading the Bible, start with the life of Jesus from the book of Mark in the New Testament. Start at the beginning of Mark and read as much as you want to read each day.
Can anyone do Bible Study?
Yes! Anyone can study the Bible Study for themselves. The Bible is God's Word for every one of us. Just start reading through the New Testament. The Holy Spirit will help you understand what you are reading. That is what God desires for you so He makes sure you are enabled to do it. So, you can ask the Lord to teach you through what you are reading.
Image credit: photo by John Newton, sourced at flickr.com (2390834799_3f5872858a_o.jpg)