About Us
Do you catch yourself looking for the next flashy speaker, viral video, or inspiring book to satisfy your spiritual heart needs? Are you weary of Bible studies saturated with personal commentary telling you how to think? Did you know that creates a dependence on people rather than on Jesus?
You won't get that here. Joyful Walk Bible Studies teach you how to dig into the Bible for yourself and to depend on Jesus to help you apply what you learn from Him. Then, you can have a joyful walk, stepping through life with a satisfied heart.
About Melanie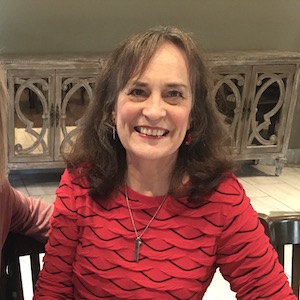 Jesus took hold of me when I was a young woman, and I've been on this great adventure ever since. My life is a gift of God, full of blessings in the midst of difficult challenges. The more I've learned and experienced God's absolutely amazing grace, the more I've discovered my faith walk to be a joyful walk. I'm still seeking that joyful walk every day.
Beginnings
I'm a Louisiana girl who responded to God's grace through the college ministry of Cru (Campus Crusade for Christ). At that point, I chose to follow Jesus as His disciple. Soon, I began leading women's Bible studies in college and continued doing so while my husband Ron attended Dallas Theological Seminary in Texas.
Even while raising our three children, I was actively involved in starting and teaching Bible studies wherever we lived. My passion from the first has been to lead women to a joyful relationship with Jesus.
Adding to my "mommy" experiences are several years of homeschooling and developing science activities for children that illustrate biblical truth. I also enjoy being a "Mentor Mom" to mothers of young children.
Discipling women has been my mission for more than 40 years now. This is reflected in the resources offered on this website—Joyful Walk Bible Studies for growing Christians and Graceful Beginnings studies for anyone new to the Bible.
Experience and training
Being part of the women's leadership team in several large churches provided me the opportunity to write Bible Studies and deliver biblical messages to women's groups.
Serving as the Women's Ministry Director for a large Protestant denomination showed me the need for quality Bible Studies to be easily available and affordable.
I've also helped women start and lead Bible Study groups of their own.
Associations
You can follow me as a regular contributor to bible.org, one of the world's largest Bible resource websites.
I am also a member of the Association of Women in Ministry Professions.
My Bible Studies are featured on many top websites and popular blogs such as Ben and Me and Faithfully Planted.
Joyful Walk Ministries is a partner with Integrity at Work, a 501(c)3 organization.
Speaking and teaching
I am available to speak at retreats and conferences. Choose a topic from one of my studies or your own topic.
I also offer Lifestyle Disciple-making Training events to churches large and small. My goal is to lead women of all church backgrounds to a lifestyle of disciplemaking—personally as well as incorporating the process into existing women's ministries.
Beliefs
At Joyful Walk Ministries, we firmly believe that everyone who trusts in Jesus Christ receives a new identity—child of God, one of God's saints, totally loved and accepted by God; that eternal life is forever from the moment someone trusts in Jesus regardless of age; and that nothing can ever separate us from the love of God we have in Christ Jesus, including anything we ourselves do.
We hold to these basics doctrines of the Christian faith:
•The Bible is the inspired Word of God without error in the original writings, and the supreme and final authority in doctrine and practice.
God is a Trinity: Three Persons in One – Father, Son, and Holy Spirit, who have the same nature and attributes but who are distinct in office and activity.
Jesus is God: Not just a human religious teacher. The eternal Son of God became man, without ceasing to be God, having been conceived of the Holy Spirit and born of the virgin Mary, in order that He might reveal God and redeem sinful man.
Jesus died and rose from the grave for the sins of the world. Our redemption and salvation is guaranteed by His literal physical resurrection from the dead.
The Holy Spirit is God and not just a force or an energy. All believers receive the gift of the Holy Spirit, but receive spiritual gifts that differ, according to the will of God, to be used for the common good.
Salvation is by grace alone through faith, apart from works. It is a gift of God and is received by man through personal faith in Jesus Christ and His sacrifice for sin.
All believers, once saved, are eternally secure in Christ.
All things in heaven and earth were created by God and exist by His power. I believe the 6 days of creation described in Genesis 1 and Exodus 20:11 are 6 literal days.
The personal, imminent coming of the Lord Jesus Christ for the Church and His subsequent return to earth in power and glory to set up His Messianic, millennial kingdom is a sure thing.
The souls of believers in Jesus do at death immediately pass into His presence, and there remain in conscious bliss until the resurrection of the body at His coming for the Church, when soul and body reunited shall be associated with Him forever in glory.
Joyful Walk Ministries
Joyful Walk Ministries exists to help women learn to study the Bible for themselves and grow their Bible-teaching skills to lead others on a joyful walk with Jesus. We are a ministry partner with "Integrity at Work—iWORK," a 501c(3) organization headquartered in Texas. Ron Newton is the director of Integrity at WorkiWork. Ron is also the author of the top-rated business book, No Jerks on the Job. Melanie Newton is the director of Joyful Walk Ministries.