Graceful Living: Experience a life of freedom and joy!
Joyful Christian Life Bible Study
Book 3 in the "Adventure with Jesus" series.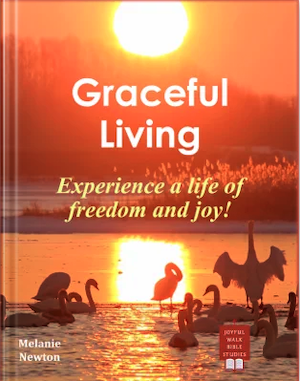 11 Lessons with podcasts
Do you want your life to overflow with freedom and joy?
You can get that kind of life when you understand God's grace toward you. That is essential for you to enjoy the life that God offers to you. Graceful Living Bible Study is an intense course leading you to study and apply essential truths for living your life with Jesus.
In Graceful Living, you will discover who Jesus Christ really is, what He has done for you on the cross, what His resurrection means for you, and your new identity and way of living in Him. You will learn how to enjoy the life God has planned for you.
What others are saying about this study:
I became a Christian when I was 8 years old (I am now 23), and this Bible Study has been such a blessing because it made so many things "click." Things I was taught as a child now make more sense as they are explained deeper. You back scripture with scripture as it should be. (Lori)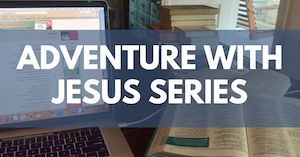 Related Resources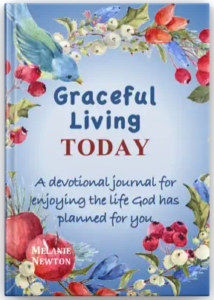 ---
What is God's grace?
In the Bible, the word "grace" means "undeserved favor or gift." Biblical grace is God giving favor to someone, not because they are good enough to deserve it but because His love chooses to do so. God's grace springs from God's love. The Bible says that God's grace is so abundant it's like a cup overflowing. God's invitation to you and your acceptance of it is wrapped up in one phrase-by grace you are saved through faith. Your salvation is an undeserved gift from God. You cannot earn it. You can't win it. You only receive it by faith.
What is the Christian life all about?
Christianity is Christ. It's not a lifestyle, not rules of conduct, nor is it a society whose members are initiated by the sprinkling or covering of water. It is all about a relationship with Jesus Christ who presented Himself as the answer to every need of the human heart. When you trust in Christ for your salvation, God's grace is abundantly poured on you. Understanding God's grace to you and for you leads to living in that grace, something I call "graceful living." The Christian life is all about Christ in you and you in Christ. Through that bond with Jesus Christ, you receive so many blessings and benefits that enable you to experience a life of freedom and joy.
What is the difference between living by grace and living by law?
Living by law (legalism) is trying to approach God on the basis of your own merits or performance. If you are trying to live by law, you will actually be drifting your focus away from the Person of Jesus Christ. You are straying from enjoying a relationship to practicing a religion. Living by grace is having a relationship with God on the basis of His grace alone. You rest in Christ's finished work on the cross to completely save you and give you freedom from sin. You live in the power of Christ's life in you through the Holy Spirit. Grace motivates you to obey God because of love and gratitude for what Christ has done rather than fear of not measuring up to His standards.
Why is truth about the Christian life so important?
Any thoughts you have about God or information you receive about God is theology. We live according to our theology. Our theology can be based on truth or error. Truth and error lead to dramatically different results. Jesus told those who believed in him, "…If you hold to my teaching, you are really my disciples. Then you will know the truth, and the truth will set you free" (John 8:31-32). If truth sets you free, then the opposite is also true: it is error that binds you. Knowing the truth about Jesus Christ and living it out in your life is the heart of Graceful Living-the kind of Christian life that will give you freedom and joy. This Graceful Living Bible Study will help you build a foundation for successful, enjoyable Christian living based on God's grace to you and for you. You will learn the difference between living by grace and living by law (rules and works). Understanding God's grace given to you is essential to enjoying the life that God has planned for you. That's the promise of "Graceful Living."
Everyone should do this Graceful Living Bible Study, especially if you have been a believer a long time but have not experienced the freedom and joy promised to Christians by God in the New Testament. If you are a new Christian, we recommend that you do A Fresh Start Bible Study first.
Image credit: photo by Hans Benn, sourced at pixabay.com (landscape-2025238_1920.jpg)