Healthy Living: A Study of Colossians and Philemon
Colossians Bible Study
Book #1 in the "Growing in Godliness" series.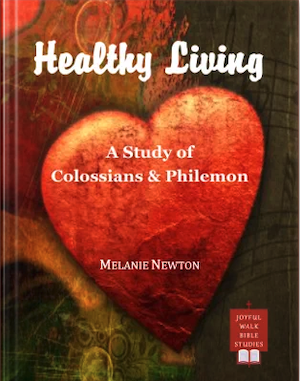 11 Lessons with Podcasts and Discussion Guide
Do you want to stay spiritually healthy?
What steps do you take to prevent physical infection? Are you as diligent to stay away from spiritual infection? Did you know that spiritual infection will make you weak and dissatisfied? The answer to all spiritual infection is biblical truth. The truth of God we have in Jesus Christ gives us a strong immune system to fight and prevent spiritual infections. The key to spiritual health is to dwell in truth you can know, humbly accept what you can't know or understand, and discern all teaching through the complete revelation of God's word.
This Healthy Living Bible Study of Colossians and Philemon will help you to stay spiritually healthy in an unhealthy world.
What women are saying about this study:
Thank you for doing this study! I love how you have us re-read what we've already covered as it helps me solidify Paul's (God's) message to the church and me. And, it makes me look at the passages again for new treasures! (Jan)
---
Image credit: open source (1014014_heart_design.jpg)