Establish New and Young Christians
Jesus followers become disciplemakers
This is the ESTABLISH phase of lifestyle disciplemaking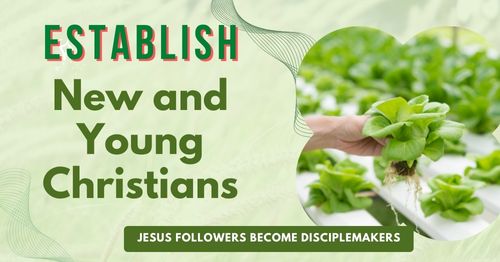 Get our new book on disciplemaking from Amazon and most online bookstores.
Every Christian needs God's truth and community
After you have connected with the nonbelievers in your life and shared the gospel with them, anyone who trusts in Christ needs to be established in their faith. This is called discipling. In reality, every Christian needs to get rooted in the basic truths related to being a Christian and to get connected with a community of believers to continue learning. This is the ESTABLISH phase of lifestyle disciplemaking.
Resources to help you establish new Christians and women new to the Bible.
Choose to disciple a new or young Christian
New and young Christians need to be established in the basic truths of their relationship with Christ.
Nurture women who are new to the Bible
Many first-time attendees to women's events at church are new to the Bible. They need to be nurtured in such a way so they will feel successful at studying the Bible for themselves. Make it easy for first-timers to learn and not give up!
Other resources for establishing new believers:
---
Image credit: Sourced from a template and photos found at canva.com.