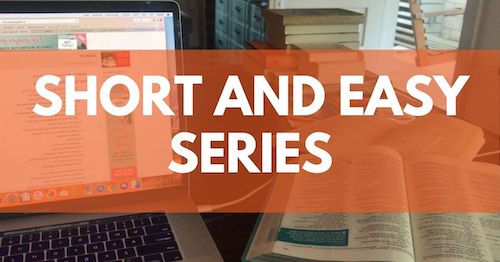 Old Testament women, New Testament women, Ephesians, and a Joyful Walk:
There are 4 studies in the "Short and Easy" series. They are basic lessons with simple questions and easy-to-understand terms and applications. These studies can be done together as a group in about an hour, or worked for just 10-15 minutes each day. They are good for anyone new to the Bible as well as experienced Bible students. If you have just a little bit of time to work on a Bible Study each week or your group has a short meeting time, these are perfect for you!
Read the descriptions below of each study in the "Short and Easy" series. Click on the pictures and links to access the free downloads or get the paperback books. Each one is also available in the fillable "Type and save your answer" digital version from my shop. All of them have matching podcasts to enhance your own study.
Book 1—The Walk from Fear to Faith: Trusting God with Your Fears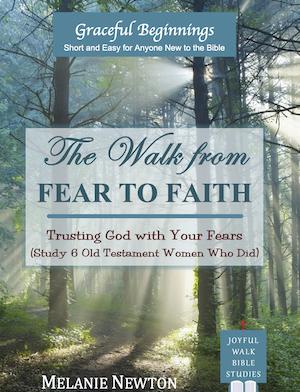 The Walk from Fear to Faith is a 6-lesson study of several Old Testament women who experienced fear like we do. In this study, you will learn 4 truths that will help you trust God with whatever you are facing so you can walk from fear to faith. You will also learn a process using those 4 truths to apply faith to any fear in your life. This is the short and easy version of the Everyday Women, Ever-Faithful God study. Read more…
Book 2—Satisfied by His Love: Let Jesus satisfy your heart with the goodness of His love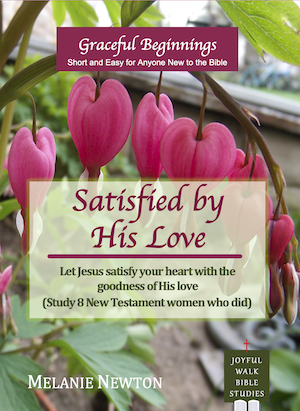 Satisfied by His Love is a 6-lesson study of women who knew Jesus and had their hearts satisfied by His love. You were created by God with a built-in thirst for a love relationship with Him. This thirst cannot be satisfied by a relationship with another human. Only God can satisfy every spiritual need of your thirsty heart through a relationship with Jesus Christ. He fills you with everything you need to have your heart satisfied by His love. This is the short and easy version of the Live Out His Love study. Read more…
Book 3—Seek the Treasure: Unearthing the riches of Christ in Ephesians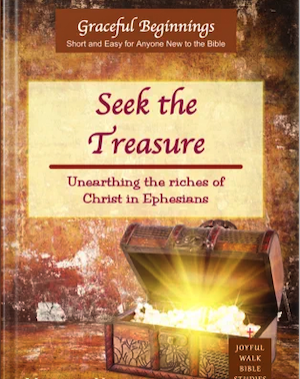 Seek the Treasure is an 8-lesson study covering the book of Ephesians in the New Testament. In this study, you will discover all the amazing treasure you have in Jesus Christ. You will learn how to recognize worthless substitute treasure, to get rid of your substitutes, and cling to your treasure in Christ alone. This short and easy study will confirm that your treasure in Christ is more powerful and valuable than anything you could substitute for Him to live successfully in this world. Read more…
Book 4—Pathways to a Joyful Walk: A Joy-Seeker's Guide to a Rewarding Spiritual Life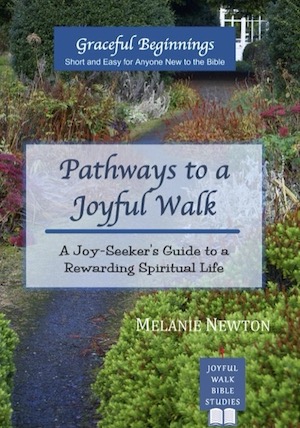 Pathways to a Joyful Walk is a 6-lesson study guiding you to the right pathways to experience joy in your spiritual life. The 6 pathways to joy are these: (1) Start with knowing Jesus Christ, (2) Bask in God's marvelous grace to you, (3) Grasp who you are as a Christian, (4) Choose whom you will serve every day, (5) Claim your freedom from bondage, and (6) Move forward with perseverance through every trial. Read more…
May the Lord show you how much you can trust Him as you learn to study the Bible for yourself and grow in your Bible-teaching skills to lead others on a joyful walk with Him. Stepping through life satisfied by Jesus leads to a Joyful Walk!
Related Resources: