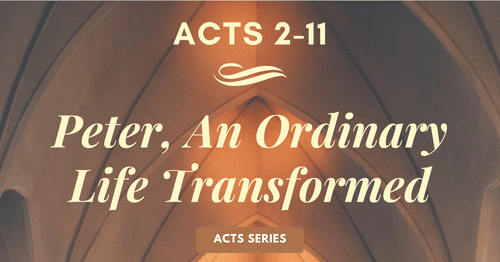 Have you considered what the Holy Spirit does to transform your life to be like that of Christ? You are a unique creation of God with certain traits He wanted you to have. What does the Spirit do with those? What does He keep? What does He change? One of the best ways to answer those questions is to look at the life of Jesus' apostles, especially Peter's life, to see how the Spirit transforms an ordinary life. Peter was an ordinary person like you and I are. This is post #6 in the Radical Acts series. In this post, we will consider the evidence in Acts 2-11 to see that the Spirit enhanced some of Peter's good traits, redirected others that were misdirected, and gradually removed that which did not represent Christ well.
Listen to this post as a similar podcast from our Radical Acts Bible Study covering the book of Acts in the New Testament. (11 lessons)
What the Apostles Believed
Like the power of a volcano pouring forth fiery lava, the power of God poured forth on the followers of Jesus gathered in Jerusalem on the day of Pentecost around 33 A.D. Born that day was a radically new creation on earth that never existed before—the Church—born not by natural power but by supernatural power. And the power behind its existence is the Holy Spirit who is a radical blessing to every believer and to the world—having a profound and far-reaching effect.
The apostles exhibited transformed lives. They were absolutely convinced that God is sovereign. They believed that Jesus was God's Son and the plan to change everything. They believed He was all-knowing so He already knew of their needs. They trusted Jesus for making decisions in their lives. They may have preferred a life of comfort and freedom from persecution, but their convictions drove them to stand for Christ. Not even hostile persecution could sway them from that stand.
What is amazing is that the apostles and other believers in Jerusalem were willing to obey God regardless of the consequences. They were thrown into prison, threatened, abused, and falsely accused. But Christ had told them to witness for Him, and they obeyed. They prayed for God to continue doing His miracles, which would certainly draw more attention to them and give them opportunities for speaking boldly. They committed their concerns to God and prayed for Him to provide what they needed to do His work. They asked for boldness. God filled them with the Holy Spirit to give them what they needed to do His work.
What a difference Christ made in the lives of these apostles!
In the gospels, they bickered over who was going to be the greatest in the kingdom (Luke 9:46-48). In Acts, they were one in heart, mind, and soul (Acts 4:32).
Jesus had chided them for wanting to send people away to find food (Luke 9:12-13). In Acts, they willingly shared everything they had (Acts 4:32-35).
At Jesus' arrest and crucifixion, they deserted Him and fled (Matthew 26:56). In Acts, they are bold and confrontational to those who killed Jesus (Acts 5:29, 41-42).
Knowing Jesus and experiencing the Holy Spirit's transforming power made the difference. Peter had a front row seat. His life is a specific example of what the transforming power of the Holy Spirit can do in any man or woman who will yield to Him.
Peter "before" Pentecost
We get glimpses of Peter's sanguine character from the gospels. He was not a highly trained academic but was just an ordinary guy, a blue-collar worker and business owner. Although he knew Jesus, he did not yet have the indwelling Spirit. What a difference that made!
In John chapter 1, when Andrew first brought his brother Simon to Jesus, he seemed anything but a promising spiritual leader. But Jesus immediately gave him a new name—Peter. We'll use that one from now on.
Let us look at Peter's traits before Christ. First, his good traits.
Peter's Good Traits
When you read the gospels, you can see that Peter was open-hearted, loyal, and verbally gifted. Look at these examples:
(1) When asked by Jesus, "Who do you say that I am?" Peter responded "You are the Christ, the son of the living God." Peter's testimony to Jesus' identity was the clearest given to that point in the Lord's life (Matthew 16:16). Verbally gifted.
(2) When Jesus emphasized the trouble His followers would encounter, many fell away. Jesus turned to the 12 and asked, "You do not want to leave too, do you?" Peter responded, "Lord, to whom shall we go. You have the words of eternal life. We believe and know that You are the Holy One of God" (John 6:66-69). Loyalty is a great quality as is being open-hearted.
(3) Even in the Upper Room, after Jesus warned them of his upcoming trouble and that they would desert him, Peter bragged, "Even if all fall away on account of you, I never will" (Matthew 26:31-33). Loyal.
But we can also see his not-so-good traits.
Peter's Not-So-Good Traits
Peter was also impulsive, weak-willed, and fearful. Look at these examples:
(1) When Peter saw Jesus walking on water, he asked if he could do the same. Jesus said yes so Peter leapt out of the boat then became fearful and began to sink (Matthew 14:28-30). Impulsive. Fearful.
(2) After witnessing Jesus' glory on the mountain, Peter's impulsive response was to build three tabernacles right there (Matthew 17:4). God's response was for him to listen to Jesus.
(3) After his great confession of Jesus as the Christ, Peter proceeds to tell Jesus what to do to avoid His death. He says, "Never, Lord. This shall never happen to you." Jesus gave him the most severe rebuke that He gave anyone except Judas and the Pharisees, calling him Satan and chiding him for not having in mind the things of God, but the things of men (Matthew 16:22-23).
(4) At Jesus' arrest, Peter impulsively cuts off the servant's ear, like that would do any good (John 18:10).
(5) Away from the Lord, Peter was not able to keep his promise. After Jesus' arrest, Peter folded when the pressure was on and denied the Lord whom he loved. His compulsion to talk kept him from being silent even while mingling with his enemies (Matthew 26:69-70). Weak-willed and fearful.
But Jesus knew all along that Peter would be a leader of men. When Jesus prophetically gave him the name Peter, Jesus named him not for what he was but by God's grace what he would become. The name "Peter" means rock or rock-man. What we see as being unstable would be transformed into someone stable. Peter would become the rock-man for the Church.
Peter "after" Pentecost
When you study Acts 2-6 , it is obvious that Peter became strong when he experienced Spirit Baptism and was subsequently filled with the Holy Spirit. The change that came into Peter's life did not eliminate his temperament but modified it. After the filling of the Holy Spirit, the dynamic, lovable, magnetic characteristics of Peter are still evident. But the weaknesses are transformed, and God is glorified in the transformation.
(1) On the day of Pentecost (Acts 2), verbally-gifted Peter preached a sermon that is a masterpiece and cannot be explained by just the fact that he had associated with Jesus for three years. His sermon was the message of God through the instrument of Peter, a classic example of the way God wants to use men and women today. Stumbling, inconsistent, emotionally unstable Peter was transformed into a Spirit-controlled, bold preacher of the gospel. He was no longer full of "I's" but full of Jesus.
(2) In his loyalty to Jesus, Peter was flexible and available to do whatever the Holy Spirit would have him do. He stopped and healed the lame man and gave all the glory to the Lord Jesus (Acts 3). Led by the Holy Spirit, Peter seized the opportunity to preach to the crowd gathered. Many believed.
(3) Under the pressure of interrogation by religious authorities (Acts 4), whom he had likely held in high esteem all his life, Peter's mind was clear as a bell as the Holy Spirit gave him wisdom and emotional control. Peter boldly answered their charges by acknowledging Jesus and giving all glory to Him. He yielded to the Holy Spirit's control of his words and thoughts, enabling him to overcome any fear. He said this to them,
Judge for yourselves whether it is right in God's sight to obey you rather than God. For we cannot help speaking about what we have seen and heard. (Acts 4:19)
When Peter stood before the council again (Acts 5) and was rebuked for trying to make them guilty of Jesus' blood and told to stop preaching Jesus, Peter boldly answered,
We must obey God rather than men! (Acts 5:29)
(4) The fourth change is joy during a trial. Peter's reaction to being severely beaten by the Sanhedrin officials is the reverse of what we would expect from him. He and the other apostles rejoiced because he "had been counted worthy of suffering disgrace for the name" (Acts 5:41). This reaction is evidence of Spirit transformation.
(5) Then, it was time for another transformation. Like Paul, Peter needed to be challenged to rethink God's purpose for the Gentiles in His plan of salvation. Was he ready? God thought so. We see this unfold in Acts chapters 10 and 11.
Prepare by Instruction, Learn by Experience
God's method of teaching seems to be this: 1) prepare by instruction and 2) learn by experience. Prepare by instruction is what we learn from His Word. Learn by experience is the test to see if you understood what you learned. Both can come as a surprise. That's what happened to Peter.
Peter had grown up learning the Jewish Law as the Word of God and obeying it. The dietary law especially separated a good Jew from an unfaithful Jew or a Gentile. God spoke to Peter in a vision and taught him something new (Acts 10). He could eat any food that God created. Nothing was unclean any longer. God's message also included people, especially the Gentiles who needed to know Christ.
Then, Peter got the test (Acts 11). God sent an invitation by a Gentile who wanted to hear the gospel. When he arrived at the Gentile's house, along with Christian brothers as witnesses, Peter obediently shared the gospel message with the whole group. They believed the message. And God confirmed their faith by Spirit Baptism (Acts 2), which all the witnesses recognized to be in the same manner that the Jewish believers had experienced on Pentecost. The witnesses saw it happen right before their eyes.
A few days later, Peter was challenged by the other apostles about his going into a Gentile's house and preaching the gospel to them. Peter confidently declared,
Who was I to think that I could oppose God? (Acts 11:17)
Peter passed the test. Peter learned the lesson. The Holy Spirit had transformed Peter's life. And God's plan moved forward in more amazing ways and more rapidly than anyone could have ever imagined. It was an ordinary life transformed by God.
An Ordinary Life Transformed
So often we look around at what all our friends are doing and are tempted to think "I'm not accomplishing anything." The message being conveyed by social media especially and even in the news is that it isn't okay to be ordinary. If you haven't started a non-profit to save the world or published a best-seller, you're not accomplishing anything. It seems to be "in your face" all the time.
But we can look at Peter's seemingly ordinary life and see that it was very valuable to God. His value was not because he was super-educated, wealthy, handsome, or a star athlete in ancient Israel. Peter was an ordinary man who knew his weaknesses and yielded to the Spirit's transforming power to do whatever Jesus wanted him to do and be. He knew that he was dearly loved by His Savior.
God made Peter to be loyal, open-hearted, and verbally gifted. He used those very traits to further His gospel message. He transformed Peter's impulsiveness, fearfulness, and tendency to be weak-willed into carefully seeking guidance from the Lord, trusting the Lord, and boldness to do what Christ asked him to do. He can do the same for you.
When Jesus commissioned His followers to go everywhere and make disciples in Matthew 28:19, that declaration was given to ordinary, everyday women and men like you and I are. None of them were ordained preachers, hired church staff, or leaders of missionary organizations. Some did extraordinary things and are written about in the book of Acts. Others were just "proclaiming the good news of the word" wherever they went. Unnamed. Ordinary. But they told about Jesus to their families, friends, and neighbors in the context of their ordinary, everyday lives. They allowed the Holy Spirit to transform them into Christ followers who resembled Christ more than their old selves. They dared to be different from their world. And God blessed that. It's okay to be ordinary.
God is attracted to weakness. He can't resist those who humbly and honestly admit how desperately they need Him. Our weakness, in fact, makes room for His power. (Jim Cymbala, Fresh Wind, Fresh Fire)
Our willingness to let the Spirit control and transform us requires us to recognize that we are weak to do anything of spiritual significance on our own. Then, He takes over and uses all the gifts He has given us for God's glory. The God of the unexpected takes everyday ordinary kinds of people like I am and like you are, too. He works through our weaknesses, leads us to trust Him more, and surprises us with gifts from unexpected sources. God uses the ordinary and unexpected to accomplish His purposes. What a joy it is to serve Him!
Our next post will look at how to support causes that are aligned with God's purpose and not get distracted away from that by compromising.
Let Jesus satisfy your heart with His Spirit's transforming power. And say yes to a life of adventure with Him!
All of the above information is covered in the Radical Acts Bible Study of the book of Acts.
Related Resources:
Image credit: sourced from a template at canva.com