"Bible Study Leadership Made Easy" Video Course
Learn to lead with confidence and grace
Leading a Bible study is part of the LAUNCH phase of lifestyle disciplemaking
Are you ready to lead a Bible study? Do you want to be the best Bible study leader you can be?
I am just an everyday woman who loves Jesus and the Word of God. Through the years, I have learned how to step above my insecurities to lead a Bible Study with confidence and grace. That is what I share in these videos and the course workbook. Bible Study Leadership Made Easy is only $20 and covers many aspects of leading a Bible Study group or lesson. Are you ready for adventure?
What You Get with This Course
Bible Study Leadership Made Easy will help you start a Bible study group, choose a good study for your group, and make a plan for leading the lesson discussion. We will also address some common challenges (like excessive talkers, rabbit trails) that arise as you are leading a Bible study. You can pick and choose which videos to watch that meet your needs as a current leader or work through the whole course to get "trained" and ready to lead.
Section #1: Begin the Adventure — Just Say Yes!
Section #2: Step Forward as the Leader (putting together the group)
Section #3: Prepare Wisely as Content Guardian (as a learner first, then making a plan to lead)
Section #4: Lead Confidently as Content Guardian (leading the lesson discussion)
Section #5: Lead Graciously as Community Builder (meeting the people challenges in any group)
Section #6: Enjoy the Adventure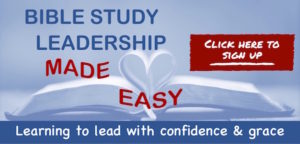 Thank you, Melanie. This course is an answer to prayer. God is Good! (Antoinette)
More Resources to Start and Lead a Bible Study group
---