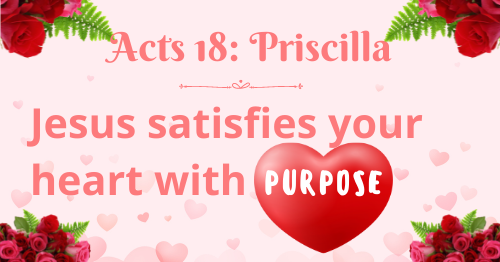 Have you been looking for purpose in life? Where do you find your purpose? In this post, we will see how you can find your purpose in the Lord Jesus Christ as He leads you to discover it. Priscilla is one woman who discovered that Jesus satisfies your heart with purpose. This is post #12 in our New Testament Women series.
Listen to this post as a similar podcast from our Bible Study of New Testament women: Live Out His Love.
Purpose. We all like to feel we have a purpose. But where do you find your purpose? Who gives it to you? You have two choices basically. You find your purpose from what your culture says about you and expects of you. Or you find your purpose in the Lord Jesus Christ as He leads you to discover it. Priscilla is one woman who discovered that Jesus satisfies your heart with purpose.
Getting to know Priscilla
Many of the places Paul visited during his three long journeys were strategic centers of culture, commerce and communication. The Gospel planted in them would spread quickly to surrounding towns and villages and farther as travelers took the good news home with them. Four of the most important places Paul visited were Athens, Corinth, Ephesus, and Rome. He met Priscilla in Corinth.
After this, Paul left Athens and went to Corinth. There he met a Jew named Aquila, a native of Pontus, who had recently come from Italy with his wife Priscilla, because Claudius had ordered all Jews to leave Rome. Paul went to see them, and because he was a tentmaker as they were, he stayed and worked with them. Every Sabbath he reasoned in the synagogue, trying to persuade Jews and Greeks. (Acts 18:1-4)
Corinth was Greece's most important trade city, filled with shops, and a melting pot of approximately 500,000 people. While there, Paul joined Aquila and Priscilla as they worked on the same trade together—tent making. Tents were made of hand-woven strips of black or dark brown goat's hair about three feet wide sewn together and reinforced. Goat's hair is resistant to both heat and water, and once washed it shrinks and becomes taut. The skill of tent making was probably taught to Paul and Aquila in their youth. Additionally, Paul's native province of Cilicia was noted for its goat's-hair cloth called cilicium that was largely used in tent making.
Here's what we know about Priscilla. Her formal name was Prisca, which is what Luke used when he wrote of her in the book of Acts. Paul preferred using the name Prisca in his letters when he talked about the couple.
She was married to a man named Aquila. The two of them were Jews who had been forced to leave Rome after the Roman emperor Claudius kicked out all the Jews. It is likely that Priscilla and Aquila were already Christians when they came to Corinth to live because Paul never referenced them trusting in Christ. They extended hospitality to Paul as he stayed with them.
Can you imagine what it would have been like for Priscilla and Aquila to have Paul as a daily companion, co-worker, and influencer? When the Jews opposed Paul, did that affect them and their business as well? One night, the Lord spoke to Paul in a vision…
"Do not be afraid; keep on speaking, do not be silent. For I am with you, and no one is going to attack and harm you, because I have many people in this city." So Paul stayed in Corinth for a year and a half, teaching them the word of God. (Acts 18:9-11)
Paul stayed in Corinth for about 18 months. During that time, many of the Corinthians who heard Paul believed and were baptized. Then, it was time to leave.
Priscilla and Aquila go where they are needed.
Paul stayed on in Corinth for some time. Then he left the brothers and sisters and sailed for Syria, accompanied by Priscilla and Aquila. … They arrived at Ephesus, where Paul left Priscilla and Aquila. He himself went into the synagogue and reasoned with the Jews. When they asked him to spend more time with them, he declined. But as he left, he promised, "I will come back if it is God's will." Then he set sail from Ephesus. (Acts 18:18-21)
After all that time of being part of the church in Corinth, Priscilla willingly joined her husband to accompany Paul as he sailed to Ephesus. Ephesus was also an important trading center at the junction of the Asiatic caravan route to the east and the sea route to Rome in the west. For a short time, Paul preached in the synagogue, and a few Ephesian Jews trusted in Christ. Paul was in a hurry to get back to his home church in Antioch, so he left Priscilla and Aquila in Ephesus. Knowing that Paul was willing to leave them in Ephesus to carry on ministry there tells us that Paul felt they were established in their faith.
It is in Ephesus where Aquila and Priscilla met Apollos when he came to the synagogue. As a traveling teacher, he was invited to speak. We begin to see how following Jesus helps Priscilla to find her purpose.
Meanwhile a Jew named Apollos, a native of Alexandria, came to Ephesus. He was a learned man, with a thorough knowledge of the Scriptures. He had been instructed in the way of the Lord, and he spoke with great fervor and taught about Jesus accurately, though he knew only the baptism of John. He began to speak boldly in the synagogue. When Priscilla and Aquila heard him, they invited him to their home and explained to him the way of God more adequately. When Apollos wanted to go to Achaia, the brothers and sisters encouraged him and wrote to the disciples there to welcome him. When he arrived, he was a great help to those who by grace had believed. For he vigorously refuted his Jewish opponents in public debate, proving from the Scriptures that Jesus was the Messiah. (Acts 18:24-28)
Priscilla was present in the synagogue with her husband. That is faithfulness. She was also listening carefully to what Apollos said. That was paying attention. Instead of confronting him there in public, they invited Apollos to their home and explained the rest of Christ's story to him. That's hospitality and discipling. Apollos was not only teachable, he took that information and continued on his way to other towns to teach that Jesus was the Messiah, including Corinth.
Priscilla was discovering her purpose in both of those functions necessary to the body of Christ. Three years later, when Paul wrote the Corinthians from Ephesus, Priscilla and Aquila were still there.
The churches in the province of Asia send you greetings. Aquila and Priscillagreet you warmly in the Lord, and so does the church that meets at their house. (1 Corinthians 16:19)
The church in Ephesus met in Priscilla's house. That became a pattern for this couple. About a year later, Paul wrote a letter to the Roman churches. Priscilla and her husband are mentioned in it.
Greet Priscilla and Aquila, my co-workers in Christ Jesus. They risked their lives for me. Not only I but all the churches of the Gentiles are grateful to them. Greet also the church that meets at their house. (Romans 16:3-5)
Priscilla and Aquila went back to Rome. They had lived in Rome previously until they were required to leave by Claudius. That is when they went to Corinth and met Paul. Rome was the capital of the empire, top ranking in political importance, geographical position and sheer magnificence. Look what they are doing there again—hosting a church in their house and ministering to its members.
Several years later, Paul left Timothy to pastor the church at Ephesus, and Priscilla and her husband were there with him, still faithfully ministering. Paul mentioned them in his last letter before his execution.
Greet Priscilla and Aquila and the household of Onesiphorus. (2 Timothy 4:19)
Would you agree that Priscilla was loyal to Jesus? She was willing to go wherever she was needed to further the cause of Christ. Jesus as Lord deserves our loyalty.
In his letter to the Romans, Paul wrote that Priscilla and Aquila were co-workers in Christ Jesus. Jesus satisfied Priscilla's heart with purpose—as a co-worker with Christ in making disciples for Him. You have the same purpose.
Finding your purpose
Jesus calls you to a new life with Him.
Christianity is Christ! It is about Jesus Christ and your relationship with Him. You enter into that relationship by faith in Him as the Son of God who lived a perfect life in a human body, died on the cross to pay the penalty for your sins, and rose again from the dead with a new resurrection body so He could give you new life as well. That's the gospel message.
Jesus clothes you with Himself.
The moment we accept this call to new life, you get "clothed" with Christ (Galatians 3:27). This means that when God looks on you, He sees His own Son. You become totally loved and accepted in God's sight. And you become the walking, talking, visible representative of an invisible God.
Jesus commissions you with a purpose.
Every believer actually has a two-fold purpose: 1) to follow Jesus as His disciple and 2) to live for Him as a disciple-maker.
First part of your purpose: Following Jesus as His disciple. A disciple is an active learner. To follow Jesus means to make the choice to learn from Jesus through what is taught in the Bible and to apply those teachings to your life. You do that through depending upon Him to help you be obedient to Him. The result is Jesus living His life through you, influencing those around you so they can experience His love as well. That's what Priscilla did.
Second part of your purpose: Living as a disciple-maker. Jesus told His disciples to go and "make disciples" as He did. His disciples took in what they learned from Him and shared it with others, taking others through the process. Then, the new Christians could in turn share about Christ with someone else and disciple them. That is how to live for That's what Priscilla did.
Jesus empowers you to fulfill that purpose.
His Spirit lives in you giving you the power to do what Jesus commissioned you to do. You can be a disciple-maker not because you are so great, smart, have been a Christian a long time, or know the Bible well. The Spirit makes you able. You are simply to obey Jesus and trust His Spirit to work through you. And being scared is a good thing because you will rely on Him more.
Jesus followers become disciple-makers.
Jesus followers become disciple-makers. That's a purpose given by Jesus to you. But it's easy to get sidetracked from it. Maybe you have feelings of inadequacy or a fear of rejection. Maybe it's a matter of comfort. It's a whole lot more comfortable hanging out in community with growing Christians than to be around those who don't know Christ.
When it comes to making disciples, you have three powerful tools to help you fulfill your purpose. 1) The Holy Spirit at work in you and in the world. 2) The gospel message, and 3) Your own faith story. You can learn how to share the gospel message. You can also learn how to share your own faith story in a short time whenever given the opportunity.
In the Live Out His Love Bible Study, you are given opportunities to practice sharing the gospel message and your own faith story. Then, you ask the Spirit to give you opportunity to share Christ and your story with women who need to meet Jesus. Once someone trusts in Christ, every new believer needs to be discipled. That's what Priscilla did along with her husband. We have lots of discipling tools available for that.
Not every Christian woman will become a director, coordinator, or small group leader. But every Christian woman from 15-95 can become a disciple-maker, sharing Christ, and discipling new believers.
Jesus satisfies your heart with purpose. He calls you to a new life, clothes you with Himself, commissions you with a purpose to follow Him as a disciple and to live for Him as a disciple-maker. Thankfully, Jesus does not leave you alone to work really hard to do what He's asked you to do. He empowers you to fulfill your purpose. The power comes from God's Spirit who lives inside you from the moment you trust in Christ for salvation. Your response is to live dependently on His power in your life by faith. You are simply to obey Him and trust His Spirit in you to work through you. And being a little scared is a good thing because you will rely on Him more.
Feel free to say, "Lord Jesus, I can't do this on my own. I will trust you to do this in me and through me." Then, watch what He does!
Our God created us with a spiritual thirst for a relationship with Him. A relationship with another human cannot satisfy that thirst. Only God can satisfy the thirsty heart. Jesus satisfies your thirst with purpose and helps you live it out daily. As the Bible promises,
He satisfies the thirsty and fills the hungry with good things. (Psalm 107:9)
A satisfied heart recognizes her purpose and intentionally lives it out while depending on Jesus Christ to do so.
You can learn about how Jesus satisfies your heart through our study of New Testament women: Live Out His Love (11 lessons). You can also learn more about Priscilla through our Radical Acts Bible Study of the book of Acts.
Related Resources:
Image credit: sourced from a template at canva.com