Start a Bible Study Group
Step out in faith to start a Bible Study group and invite others to join you
Do you want to do a Bible study and would rather do it in community with other women rather than by yourself?
Maybe you have been thinking about starting a Bible study and inviting others to join you but that thought terrifies you. Now may be the time to step out in faith and just do it. Faith means you step out in a direction of trusting Jesus to get you through whatever it is you are doing. It leads to becoming a God-dependent woman. And, whatever makes you depend upon God more is good for you! Ready to start a Bible Study group? I am here to help you and be your cheerleader through the process.
Ideas for Starting a Bible Study Group
Many churches offer Bible studies for women. All you have to do is sign up. But, a lot of churches do not offer Bible studies for women because the churches are too small or have no one to lead the way. If you want to start a Bible study group, here are my suggestions to get started.
Select a Bible Study that interests you.
If you are excited about doing a certain study, it will be easier to get others interested. You can visit the free bible studies for women page to see what is available on this website. I can also help you choose a Bible Study for your group.
Think of women to invite.
Once you've chosen your Bible study, then think of women you know who might be interested in joining you for that study. Here are some ideas that I've tried or others have tried with success.
Put an announcement in your church news and see who wants to join you. I've done that a few times.
Do you have a few neighbors you could ask? This is a great way to build community.
Maybe you have some mommy friends who need to have some adult discussion. I know a group of women who get together for Bible study right after they drop their children off at school in the morning.
Consider inviting some co-workers to join you during your lunch break.
Post it on Facebook and see who responds. One member of our Joyful Walk Community did that and found 50 women in her remote area who wanted to do a Bible study with her through a Facebook Group, occasionally meeting together at a local coffee shop.
If you have other ideas, leave them in the comments section below.
Decide when to meet.
If you already have a group of friends, neighbors, or co-workers who want to join you for a Bible study, that's great. You just have to decide when and where you could meet.
It doesn't have to be every week. I know of several groups of friends who meet only twice a month for Bible study. It does help to not go too long between meetings, though. You really can lose consistency in thought if too much time passes. At least, I do!
It can be at any time that works for your group. Early in the morning before school or work. Over the lunch hour for co-workers. In the evening. Or anywhere in between. Whatever works for you. Go for it!
Decide where to meet.
Usually, you think of meeting in someone's home. That doesn't always work, though. And, outside of homes, the possibilities are endless.
I met with a group of ladies in the evening at a coffee shop one summer while sitting outside under the awning. Another group met in the café area of the local grocery store over the lunch hour, drawing in women who work from home in our area.
Restaurants can be noisy making it hard to hear one another. But, some have side rooms you can reserve.
Meeting at a room in your church might be the most convenient place, especially if you like to know you will always have a place to meet away from crowds!
You can try different days/times/places until you find something that works well for your group.
Step out in faith and just do it!
Ask Jesus to help you with all of the above steps to start a Bible Study group. Depend on Him to show you what to do. He is faithful! Happy leading!
To get more information and training on leading a Bible Study group, check out my online video course, Bible Study Leadership Made Easy. It's only $20 and covers many aspects of leading a Bible Study group or lesson.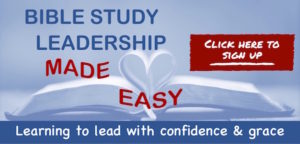 ---