Start a Bible Study Group
Step out in faith to start a Bible Study group and invite others to join you
Do you want to do a Bible study and would rather do it in community with other women rather than by yourself?
Maybe you have been thinking about starting a Bible study and inviting others to join you but that thought terrifies you.
Now may be the time to step out in faith and just do it.
Faith means you step out in a direction of trusting Jesus to get you through whatever it is you are doing. It leads to becoming a God-dependent woman. And, whatever makes you depend upon God more is good for you!
Ready to start a Bible Study group? I am here to help you and be your cheerleader through the process.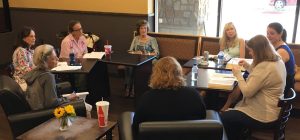 To get more information and training on leading a Bible Study group, check out my online video course, Bible Study Leadership Made Easy. It's only $20 and covers many aspects of leading a Bible Study group or lesson.