Lead a Bible Study Lesson
Learn how to lead the discussion for a Bible Study lesson
Is Jesus prompting you to lead a Bible Study but you don't know how to start?
Are you afraid that you don't know enough of the Bible to lead a Bible Study for a group?
Does the thought of directing a discussion make your knees tremble?
Did you know that everyone feels inadequate when they start out? You are not alone.  I've been where you are. Thankfully, Jesus took me beyond my insecurities. He'll do the same for you.
Let me help you step above those feelings of insecurity you might have about leading a study if you've never done it before. Since I'm most familiar with the Bible Studies on this website, we'll use those as our examples.
Lead a Joyful Walk Bible Study
Let's say that you've chosen your Joyful Walk Bible Study. You are all excited about it. You have either downloaded the study from my website, had it printed and bound, or you have ordered the print copies from Amazon (for about the same cost as doing it yourself). You've scheduled a start date. Everyone has their books, and they are working on Lesson One at home. Then you think, "How do I lead the discussion when we get together?"
I can help you with that. ♥
First, look at how the lesson is arranged.
Some Joyful Walk Bible Studies have Bible verses and background information up front. Some are divided up by days (Day One, Day Two, Day Three, Day Four).
All have a mixture of observation (What does the Bible say?), interpretation (What does it mean?), and application (How do I apply this?) questions scattered throughout the lesson. The application questions are often identified by a focus phrase after the question # (for example, Your Joy Journey in the study Knowing Jesus…Knowing Joy!)
Second, consider how long your group gets to meet.
If you have a couple of hours, you can usually cover the whole lesson.
If you only have an hour, you will have to choose which questions you want to discuss as a group. Don't just pick just the application questions, though. You will want to make sure the women understand the truth revealed in the Bible before they try to apply it to their lives.
Either case, always read the main Bible passage(s) for the lesson. Otherwise, you are spending your group time on man's word rather than God's revealed word and your response to it.
Ask Jesus to help you make a plan.
As you open yourself to the Holy Spirit's leading, what you learn in your own personal study time will be valuable to your group as you lead them through the discussion.
When you have 1 ½ - 2-hours to meet:
1. Pray then ask someone to read the Bible verse at the top of the lesson if there is one.
2. Ask someone to read the Bible passage for the lesson or for each section of the lesson as you get to it.
3. Work through the questions by reading the question and letting the group respond. See The 5 C's of Small Group Leadership (chapters 3 & 4) for suggestions on how to do this.
4. If the application question is very personal, I ask if anyone would like to share their response with the group. Sometimes I skip that altogether. Just depends on the question.
5. Mark questions that could be combined together or skipped because the answer might have been covered already in discussion.
6. Pray for Jesus to apply what "we've learned in our lesson."
When you only have an hour or less:
1. Encourage the women to get their lessons done ahead of time. If this is difficult, you could divide each lesson into two parts and cover at two group meetings.
2. Always read the main Bible passages even if you have to skip some of the questions to have time for this.
3. Choose which questions you want to cover.
There you go.
How to handle 6 "What if's" as you lead
You are probable already thinking some of these questions. What if someone keeps talking on and on and on? What if someone drops out of the group? What if I can't get everyone to participate in the discussion?
You can probably think of quite a few more. All of these contribute to building community in the group (or can disrupt it if not handled well). One thing I want you to remember when it comes to handling the "What if's" is that Jesus will help you with all of the following challenges to leading a Bible Study group. Depend on Him to show you what to do. He is faithful!
Here are some words that the Lord gave to Paul to write down for us: Let your conversation be always full of grace, seasoned with salt, so that you may know how to answer everyone. (Colossians 4:6)
There are gracious, loving ways to respond to the common challenges that both experienced and new leaders face. You can trust in Jesus to help you do this.
"What if" #1: What if I can't get everyone to participate in the discussion?
Good news. It's not your job to make everyone talk. I have learned that people will share when they are ready to do so. Calling on people to make them participate often makes the shyer ones feel like not coming back. Be patient. Listen well and affirm answers as they are shared.
"What if" #2: What if someone keeps talking on and on and on?
If you are the talkative one, mark the question(s) where you want to share an answer. Otherwise, let the rest of the group members answer the questions.
For handling a talkative group member, pray for Jesus to help you think of words you can use to jump in and sum up what they just said. Use humor. Quickly thank them for an answer, turn your eyes away, and move on.
You are the "content guardian" for your group, that is, you need to keep the discussion focused on the lesson and what participants are learning from the own study. The group depends on you to do this so you do not have to let the talkative people dominate your group.
"What if" #3: What if I am feeling overwhelmed with the responsibility?
Ask someone in the group to be your helper with the organizational stuff. If your group is large enough, ask someone to be your co-leader so that she would be prepared with her lesson to step in if something happened to you one day. It is always good to have someone else take ownership of the group besides you. And, it gives experience to someone else in leading a group. Ask outgoing women to help with making others feel connected to the group
"What if" #4: What if someone asks a question, and I don't know the answer?
Assume you will get asked questions for which you don't know the answers. Remember your role is "content guardian." Stay focused on the lesson. Dwell on what you can know. Avoid speculation just to come up with an answer. Humbly accept what you can't know or don't understand. Say, "I don't know."
"What if" #5: What if some aren't doing their lessons ahead of time?
Assume this will happen. You can't control this. Don't let it annoy you. Encourage them to come to the study and learn as you read the Bible passages and discuss them together. Realize that some people are so busy with work, school, and family, that they have a hard time finding extra time to do another thing for themselves. It could be just the season of life. Keep encouraging them to feed themselves from God's Word, even if they only do the first page of the lesson. Do something. If this is the majority of your group, pick a shorter Bible study that can be done in one sitting.
"What if" #6: When group members drop out
Don't take it personally. Give any feelings of insecurity to Jesus! Some sign up for a Bible study group with good intentions of doing the lessons and attending regularly. But, things get in the way. Try to find out the reasons why. More than likely it's not your leadership but that person's season of life. Or, their schedule has changed preventing them from continuing.
Trust Jesus and lead the lesson with joy
Enjoy the blessings of discovering God's Word together with a group of women and watching each one experience a joyful walk with Jesus.
Happy leading!
---
RELATED ARTICLES:
Add a Disciple-Making Focus to Women's Ministry
Make Lunchtime at Work More Fun
To get more information and training on leading a Bible Study group, check out my online video course, Bible Study Leadership Made Easy. It's only $20 and covers many aspects of leading a Bible Study group or lesson.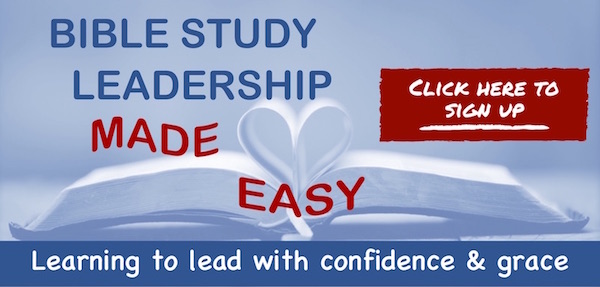 Are you a small group leader? Get some training to be the best small group leader you can be.