Hey there! Welcome to part three of the 5-part "Leading a Bible Study for a Group" series. In this series, I'm showing you the step-by-step process to launching and leading a Bible Study group. If you missed the first two posts in the series, then you best be catchin' up. You can check those out here.
1. How to Start a Bible Study Group
>>In this post, I showed how to pick a Bible Study, invite others to join you, and decide when and where to meet. Step out in faith…just do it!
2. Three Reasons Why You Can Lead a Bible Study
>> In this post, I share with you 3 reasons why you can lead a small group Bible Study even if you've never done it before: by faith, without knowing all the answers, and even if you are scared.
---
Now, onto today's topic! What to do after you've decided on a Joyful Walk Bible Study you want to use for your group.
This article will focus on those studies designed for growing Christians. The next post will cover how to lead Graceful Beginnings studies designed for anyone new to the Bible—Graceful Beginnings Studies.
You've chosen your Joyful Walk Bible Study. You are all excited about it. You have either downloaded the study from my website, had it printed and bound, or you have ordered the print copies from Amazon (for about the same cost as doing it yourself). You've scheduled a start date. Everyone has their books, and they are working on Lesson One at home. Then you think, "How do I lead the discussion when we get together?"
I can help you with that. ♥
FIRST, LOOK AT HOW THE LESSON IS ARRANGED.
Some Joyful Walk Bible Studies have Bible verses and background information up front. Some are divided up by days (Day One, Day Two, Day Three, Day Four). All have a mixture of observation (What does it say?), interpretation (What does it mean?), and application (How do I apply this?) questions scattered throughout the lesson. The application questions are easily identified by a focus phrase after the question # (example, Your Joy Journey in the study Knowing Jesus…Knowing Joy!)
SECOND, CONSIDER HOW LONG YOUR GROUP GETS TO MEET.
If you have a couple of hours, you can easily cover the whole lesson with time for creative discussion of the application questions.
If you only have an hour, you will have to choose which questions you want to discuss as a group. Don't just pick just the application questions, though. You will want to make sure the women are understanding the truth revealed in the Bible before they try to apply it in their lives.
Either case, always read the main Bible passage(s) for the lesson. Otherwise, you are spending your group time on man's word rather than God's revealed word and your response to it.
THIRD, CONSIDER THE SETTING WHERE YOUR GROUP MEETS.
Are you in a cramped space? Will you have tables? Make sure that everyone can see you and, if possible, see each other.
FOURTH, ASK JESUS TO HELP YOU MAKE A PLAN.
As you open yourself to the Holy Spirit's leading, what you learn in your own personal study time will be valuable to your group as you lead them through the discussion.
When you have 1 ½ - 2-hours to meet:
Pray then ask someone to read the Bible verse at the top of the lesson if there is one.
Ask someone to read the Bible passage for the lesson or for each section of the lesson as you get to it.
Work through the questions by reading the question and letting the group respond. See The 5 C's of Small Group Leadership (chapters 3 & 4) for suggestions on how to do this.
If the application question is very personal, I ask if anyone would like to share their response with the group. Sometimes I skip that altogether. Just depends on the question.
Mark questions that could be combined together or  skipped because the answer might have been covered already in discussion.
Pray for Jesus to apply what "we've learned in our lesson." 
When you only have an hour or less:
Encourage the women to get their lessons done ahead of time. If this is difficult, you could divide each lesson into two parts and cover at two group meetings.
Always read the main Bible passages even if you have to skip some of the questions to have time for this.
Choose which questions you want to cover.
There you go. Enjoy the blessings of discovering God's Word together with a group of women and watching each one experience a joyful walk with Jesus. Next time, I'll share with you some suggestions on how to lead one of my Graceful Beginnings studies.
WANT MORE HELP?
For even more detailed instruction, sign up for my new E-Course, "How to Lead a Bible Study with Confidence & Grace." I am always thinking about what will help you grow in your faith.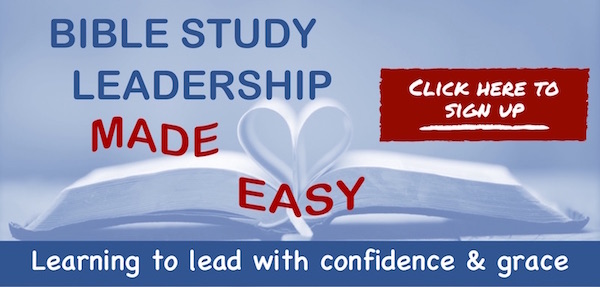 ---
If you have led a Bible Study before or you are thinking about leading a Bible Study for your friends, leave a comment to answer this question:
WHAT ARE YOUR BIGGEST CONCERNS ABOUT LEADING A STUDY?
---
RELATED POSTS:
lead a Bible study