Hey there! Welcome to part two of the 4-part "Choose a Bible Study" series. In this series, I'm showing you how to choose the next Bible Study for yourself or for your group. If you missed the first post in the series, then you best be catchin' up. You can check that one out here.
>>In this post, I showed you some questions to ask and some general things to consider as you choose a Bible Study for yourself or for a group. I suggested that you choose a scripted Bible Study, not someone's popular book, and that you make sure it uses the inductive method: observation, interpretation, application. You also need to choose a study that matches your familiarity with studying the Bible and that interests you so you will want to do it.
Now, onto today's topic!
I am often asked by women who email me about my Joyful Walk Bible Studies, "Which one do you recommend that I begin doing?" or "Which study do you recommend for my group to do?" While I have my favorite studies, it's not about me, is it? It's about what the Lord is leading you to do. Right?
I can't tell you about all the Bible Study guides out there. But, I can tell you more details about the ones on my website. In this way, I can help you choose the right one for you at this time.
I'll say right up front: If you or most of your group members are new to the Bible, start with the GRACEFUL BEGINNINGS STUDIES designed especially for anyone new to the Bible. I'll describe those more specifically in my next article. If you or your group members have done a few Bible Studies so that you consider yourself fairly experienced at it, Joyful Walk Bible Studies are right for you.
Joyful Walk Bible Studies are grace-based studies for women of all ages. Each study guide follows the inductive method of Bible study (observation, interpretation, application) in a warm and inviting format. These studies are designed for growing Christians who already have some knowledge of the basics of Bible Study and living out the Christian life. Let's look at them more closely.
OLD TESTAMENT JOYFUL WALK STUDIES
The 7 C's of a Firm Foundation: The Story of God's Perfect Creation, Its Corruption through Evil, and God's Work of Restoration (A Study of Genesis through Revelation)
This study is based on Genesis 1-11 regarding the "7 Cs of History"—Creation, Corruption (the Fall), Catastrophe (the Flood), Confusion (the Tower of Babel), Christ (Old Testament prophecies), Cross (Jesus' fulfillment of prophecies), and Consummation (restoration of God's creation). You begin with the story of God's perfect creation followed by its corruption through evil. From there, you will see how the rest of the Bible carries out the theme of God's work of restoring His creation back to perfection.
The theme of creation and restoration are consistent from the first book, Genesis, to the last book, Revelation. Knowing how the Bible ties everything together helps to build a firm foundation for your faith. This study includes competent scientific and historical information that supports what the Bible actually says, even understood by non-science types. (18 lessons divided into two parts)
Everyday Women, Ever-Faithful God: Join Old Testament Women on Their Walk from Fear to Faith
Fear is a normal human emotion designed by God to alert us to danger so that we will take action against it. Yet, fear can take root in us and cause us to give way to panic and hysteria. God knows this about us. About you. When you are afraid, God wants you to trust Him and not give way to fear. Learning to do so is your walk from fear to faith. In this study, you will journey alongside some special Old Testament women on their walk from fear to deeper faith in our amazing God. They were everyday women like you are who experienced fear like you do. From their life stories, you can see an ever-faithful God in action.
As you join these Old Testament women on their walk from fear to faith, you will see consistent truths that you can apply to your life today. Your walk from fear to faith begins as you count on these truths and live each day believing they are true. (11 lessons)
Profiles of Perseverance: Sustained by Hope in the Rough-and-Tumble of Real Life
Real life has challenges and difficulties lasting longer than a day, week or month that can make you weary of the heavy burden. Know this: your God provides the strength and hope you need in order to "hang in there"—whatever the struggles you face. Only a secure hope rooted in the faithfulness of God enables you to weather the storms of life and persevere over a lifetime. Perhaps you need that in your life right now.
Profiles of Perseverance views the biographies of several Old Testament men to see God's faithfulness to them over many years. By looking at their stories, you will gain a long-term perspective that will enable you to endure faithfully throughout your own rough-and-tumble of real life in this troubling yet exciting world. Are you ready to develop perseverance in your life? (12 lessons)
NEW TESTAMENT JOYFUL WALK STUDIES
Live Out His Love: Experience & Share the Compassion of Jesus for Women (A Study of New Testament Women)
Jesus Christ treated women as no man had ever treated them before. He taught, forgave, accepted, and gave new life to them. Because His compassion for them was so countercultural to what they had previously known, women responded with love for Him and a desire to serve Him. They also shared His love with others who could then benefit from Jesus' great love for women as well. Jesus Christ entered into the midst of their lives, visibly representing God to them, loving them dearly, and changing their lives forever! He does the same for you and me today.
Many women like you and I are longing to fulfill the purpose we have while on earth serving the Lord Jesus in our daily lives. That purpose is to live for Him, experience His love for you, and share His love with others around you. Journey alongside some New Testament women as they experienced His love and care for them—the same love and care He offers to every woman today. Just relax, trust in Him, and begin an adventure that will transform your life and others as well. (12 lessons)
Graceful Living: Experience a Life of Freedom & Joy
Have you been in church for a while but you still don't understand all that Jesus did for you? The heart of Graceful Living is the message of God's love and grace in Jesus Christ and the reality of Christ alive and living in you as a believer. Jesus Christ invites you to follow Him in discipleship—not to imprison you but to give you abundant life and rest for your soul.
Understanding God's grace given to you is essential to enjoying the life that God has planned for you. In this study, you will discover who Christ is, what He has done for you on the cross, what His resurrection means for you, and your new identity and way of living in Him.
Graceful Living will help you build a foundation for successful, enjoyable Christian living and to equip you for personal ministry to others. All based on grace. Be transformed as your "grace-giving God" completely fills your heart with His grace so that you become a "Grace-giver" in your life. (11 lessons)
Radical Acts: The Fire of the Spirit Erupting through Believers
Do you long for adventure? Do you want your life to have a profound and far-reaching effect? Then, you are longing for the Holy Spirit's work in your life! The Holy Spirit is a radical blessing to every believer and to the world. Through His transforming power in our lives, He changes the world immeasurably and irreversibly. He changes your life in the same way.
Radical Acts is a study of the book of Acts. In this study, you will see the fire of the Spirit erupting through the lives of believers. This will spark in you an appreciation, longing, and expectation for the Holy Spirit's work in your own life. Through these lessons, you will discover who the Holy Spirit is, His intended role in your life, and what it means to live in daily dependence upon Him. He is the one who will get you fired up for adventure as you follow Jesus daily. Are you willing for God to get you fired up and ready for adventure? (14 lessons)
Knowing Jesus…Knowing Joy! A Study of Philippians—Are you hungry for joy in your life?
Paul's letter to the Philippians is a well-crafted expression of gratitude and joy. This joy comes through your relationship with Jesus Christ. He is the one who promises to complete His work in you. The one who supplies your every need. The one who gave Himself up for you on the cross. The one who gives you the motivation and the power to serve Him with joy. The one who strengthens you in every circumstance. The one who causes you to be content. The one who supplies your every need from His glorious riches. The one whom you can know well. The one who longs to produce joy in your life.
The deeper your relationship with Jesus and with His people the greater the joy that awaits you and the less that joy is dependent on external circumstances. Let this study of Philippians encourage you to know JESUS and know JOY! (12 lessons)
Healthy Living: A Study of Colossians & Philemon
What do you do to stay away from spiritual infection? Usually spiritual infection comes from a cultural influence that contradicts established religious truth. An especially virulent one today challenges the deity of Jesus Christ. Do you recognize this infection in the culture around you?
Doing this Healthy Living study of Colossians and Philemon will help you to overcome that infection. In Colossians, you will find the greatest declaration of Christ's deity found in Scripture. What Paul wrote then is applicable for today when so many are trying to rob Jesus Christ of His deity and sufficiency for our salvation through grace alone and our acceptance to God apart from works.
Want to find out if your understanding of Jesus Christ, salvation, or the Christian life is based on man-made tradition or philosophy rather than on biblical truth? Study Colossians and learn how to discern truth from error in what you read, hear, and watch. Dwelling in TRUTH that you can KNOW leads to "healthy living." (12 lessons)
Perspective: Gaining a proper perspective of God, ourselves, and the world in which we live (A Study of 1st and 2nd Thessalonians)
In what areas of your life do you need perspective right now? This study of 1 and 2 Thessalonians will help you gain a proper perspective of God, yourself, and the world in which you live. Proper perspective will give you ongoing stability, enduring certainty, and increasing confidence in your God and His faithfulness to you.
Through this Perspective Bible study, you will grow in confidence as you learn that your self-worth is not derived from any human being but from God. You will be able to stand firm and press onward regardless of obstacles in your life. When you gain a proper perspective of God, yourself, and the world in which you live, there is then no limit to what can happen as God works in you and through you to impact your world. And, you will be able to serve God with greater enthusiasm and freedom. Who wouldn't want that? Is your perspective ready for a reboot? Start here. (12 lessons)
Adorn Yourself with Godliness: A Study of 1st Timothy and Titus
Every morning when you approach the mirror to get ready, do you wish that you could simply put on one thing, or do just one thing, that would present you to the world looking just the way you would like to look? You can do that! Each and every day, you can adorn yourself with godliness—living a life that reflects God's character. It is a life that is well-pleasing to Him.
This Adorn Yourself with Godliness study looks closely at two of Paul's letters: his first letter to Timothy and his letter to Titus. Through this study, you will learn that you have everything you need for godliness through the Spirit of God who lives inside you and is continually at work in you. You can never be more beautiful than to adorn yourself with the very character of God so that your life displays the beliefs you claim to profess. Approach your world every morning as you do your mirror—getting ready to present His Body to an ugly world, desperately in need of adornment. You can choose to "dress," act, and be like Him — for Him! (12 lessons)
To Be Found Faithful: Making the Choice to Live Faithfully to Your God (A Study of 2nd Timothy)
To Be Found Faithful examines the last of Paul's letters in the Bible—his second letter to Timothy. Through this study, you will learn about the faithfulness of your God. He is consistently loyal to those whom He loves and who place their trust in His Son Jesus. As a Christian, your God is faithful to you. To Be Found Faithful will show you what it means for you to be faithful to your God—to be unwavering in belief and consistently loyal to Him as you live each day. And, your faithful God is the One who enables you to do so. The wisdom of His Word and His Spirit living inside you give you the ability to remain faithful. The choice is up to you. (9 lessons)
QUICK LINKS TO JOYFUL WALK BIBLE STUDIES
Here's a quick look at all the studies I listed above and the link to get more details and the associated messages:
The 7 C's of a Firm Foundation  — Genesis 1-11 especially, creation science and history
Everyday Women, Ever-Faithful God — Old Testament Women, fear to faith
Profiles of Perseverance — Old Testament Men, life-long perseverance
Graceful Living  — New Testament living based on grace
Live Out His Love — New Testament Women, sharing your faith
Radical Acts  — study Acts, the work of the Holy Spirit
Knowing Jesus…Knowing Joy!  — study Philippians, joy in your life
Healthy Living — study Colossians & Philemon, discern truth from error
Perspective  — study 1st & 2nd Thessalonians, perspective on God and our world
Adorn Yourself with Godliness  — study 1st Timothy & Titus, dress with godly character
To Be Found Faithful  — study 2nd Timothy, staying faithful over time
---
I hope this has helped you decide which Joyful Walk Bible Study to do next. Remember that all of the Bible is God's Word for you and to you so that you can know Him well and follow Him by faith.
Ask yourself what would be the best focus for you in your life right now or for your group. Then, consider what you have already studied and what might be the best thing to build onto that. Choose your Bible study based on these.
If you are looking for studies of specific books of the Bible that my studies don't cover yet, just ask me if I know of any I can recommend. I have a few sources of really good studies that I can check out and share the links with you.
Remember to ask Jesus to help you choose a Bible study for yourself or for a group. Depend on Him to show you what to do. He is faithful!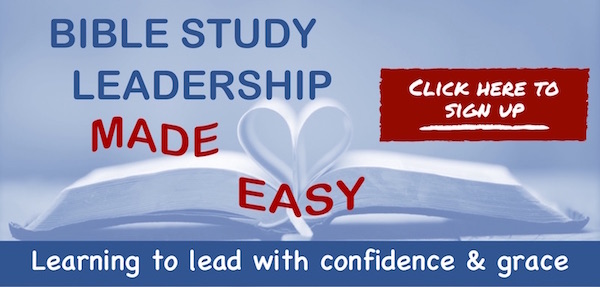 Next post: NEW TO THE BIBLE? START WTH GRACEFUL BEGINNINGS.
---
Got questions? Leave a comment! Let's chat. 
choose a Bible Study
,
Genesis
,
grace
,
joy
,
men of the Bible
,
New Testament
,
Old Testament Bible Studies
,
Paul's letters
,
perseverance
,
women of the Bible